$827.00 inc GST
Estimated Delivery Between and .
PRODUCT DESCRIPTION
The # 1 choice for Hydraulic Service
For 3/16", 1/4", 5/16", 3/8", 1/2" and 5/8" O.D. tubing

400-F Forms 37° flares to government specifications in steel, stainless steel (including MIL-T-6845), titanium and other metal tubing

Suitable for flaring soft steel, copper, aluminum and fully annealed stainless steel tube and pipe.

Three rollers in the flaring cone roll out a 37° flare above die block with a s

pecial burnishing action resulting in a polished flare face

Positive stop gauge assures correct size of flare. Special burnishing action polishes flare face

Roller action cuts effort required; maintains original wall thickness - eliminates s

tress concentration

Extension on yoke for clamping in vise

Satin chrome and black finish

Includes tool case
A trusted tool when flaring JIC 37 degree hydraulic fittings.

401-FA Reamer for use with 400-F Flaring Bar
Improves flaring finish by removing burring & other imperfections on internal tube prior to flaring.

402-FA Flaring and Reaming Kit
Contains 400-F Flaring Tool and 401-FA Reaming Yoke for 1/4" to 5/8" O.D. tubing.
Includes tool case. A must tool when flaring JIC 37 degree hydraulic fittings.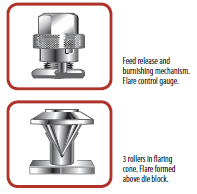 AUTHORISED RETAILER
Buy with 100% confidence knowing your purchase is backed by the full Manufacturer's Warranty.
SCROLL UP AND "ADD TO CART" TODAY.