Product Description
For real-time, instant readings techs use everyday, this pocket digital psychrometer is a must have for every HVACR professional.  
Use for walk around testing or in-duct analysis.

Clip it to your pocket just like a pen.

Narrow tip for insertion into ductwork.

Twist cap protects sensors when not in use.

Bright backlight.

Hold, max, min (HOLD, M/m)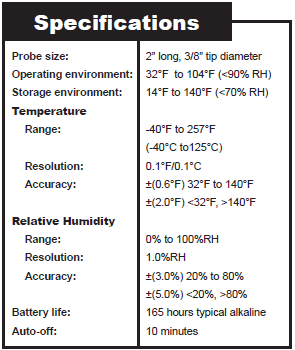 AUTHORISED RETAILER
Buy with 100% confidence knowing your purchase is backed by the full Manufacturers Warranty.  Please register your product with provided warranty card.
SCROLL UP AND "ADD TO CART" TODAY.

Wide!