Sold Out $71.73 inc GST
Estimated Delivery Between and .
Note: This product is out of stock. No Restock Date.
PRODUCT DESCRIPTION
ANC8 - Large Deluxe Meter Case
The Large Deluxe Meter Case, model ANC8, is a technician favourite because it handles a lot of gear for an affordable price. It has four pockets in all, including a deep center pocket that holds a combination of 2 full-size meters and 4 accessory head instruments.
Dimensions: 14"H x 7"W x 3"D

Pockets: 4


Material: Padded Nylon
Features include rugged nylon construction, padding,
durable pockets insi
de
and out, a rugged double zipper and a shoulder strap.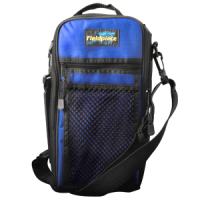 The ANC8 is a must-have upgrade for any technician that has multiple Fieldpiece meters and accessory heads.
AUTHORISED RETAILER
Buy with 100% confidence knowing your purchase is backed by the full Manufacturer's Warranty.
SCROLL UP AND "ADD TO CART" TODAY.